The AVONPUMP range of open impeller centrifugal pumps has specific applications in handling corrosive, erosive and difficult liquids which are not easily dealt with by the more conventional pumps available.

Pumps are available in various configurations. In the horizontal format we provide both close coupled and long coupled, either of simple construction or with back pull out facility. In addition a self priming version can be supplied, our self priming system utilises the twin tank system. Vertical pumps with shaft lengths (below the support plate) up to five metres can be supplied. Pontoon mounted pumps can also be supplied.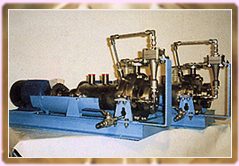 AVONPUMPS are available in most metals and engineering plastics, plastic bodied pumps are encased in a robust steel housing. For stability in the shaft seal area we prefer to provide plastic bodied pumps with metallic shafts and impellers, although if metal contact surfaces are mandatory we can produce plastic covered impellers and shaft ends.

Pump end materials are chosen for the particular duty, and may be made from , or a combination of, Stainless steels (316 and 304), Titanium, Hastelloy's, Monel's, Nickel alloys, bronzes and aluminium, with non-metallic builds in polypropylene, PVDF and PTFE.

Normally we fit mechanical shaft seals, these can be from any major seal producer. (Some Clients specify a particular make to give uniformity at site) Choice and arrangement of seals, single, double or tandem is based on our, and the seal manufacturers, experience for the particular application.

Packed glands can also be provided if specified by the client.

On the long coupled pumps up to 120 deg Centigrade the bearing bracket is cast iron with ball and roller bearings, oil lubricated and provided with a constant level oiler with oil retention by lip seals. Over 125 deg we offer cooled bearing brackets fabricated from stainless steel, cooling is by a coolantjacket with the possible addition of a cooling fan mounted on the coupling.

Motors and couplings are any Major manufacturer, normally we fit Brook Hansen motors and Metastream or Neupex couplings. A steel guard is normally fitted sparkresistant guards are available at extra cost.

Baseplates are robust steel fabrications and include an integral drippan. Depending on size lifting points are fitted. API bases are available at extra cost.

All pump and base steel/iron work is finished in AVONPUMP standard offshore epoxy, 75 microns DFT. Other paint systems can be provided at extra cost. Motors are in their makers standard finish.

Bolting is stainless steel. Housing gaskets are either PTFE or spiral wound metal/ptfe depending on the application.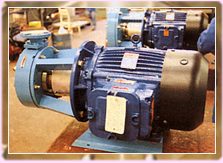 All AVONPUMPS are subjected to works tests comprising an unwitnessed hydrotest and an unwitnessed performance test at 50 hz speed. If the pumps are being supplied as `bare shaft units' or if client is to supply and fit the motor at site, we will test with a slave motor. All performance test results are converted to motor nameplate speed from the test speeds.

Other tests such as NPSH, Vibration and Noise are available at extra cost, as are tests witnessed by the client or his representatives.

Because of our open impeller design, rotating in a concentric housing, with generous clearances AVONPUMP efficiencies are somewhat lower than those of conventional pumps with shrouded impellers and volute housings. Thus for routine duties where corrosion or erosion is not a problem we would not be competitive on price or power with mass produced pumps. AVONPUMPS fill the gaps where corrosion, erosion, low npsha and non standard applications arise.